Click Here For A Free Case Evaluation
Click Here To Look Up Your Case Docket
Client Testimonials:
Tom Nowland is a fantastic lawyer. As an owner of one of the largest Glazing corporations in the country, I have dealt with 12-15 Lawyers over the years. Some good, Some NOT. Tom Nowland is Awesome! Completely on top of everything. Great guy with a good sense of humor. Great outcome!
When a major construction tenant improvement project I was engaged in went bad I contacted Attorney Thomas F. Nowland for help.  The general contractor had messed up my project, (a new fitness club) caused substantial time delays, and the work that he did complete was substandard.  To make matters worse, the general contractor filed a lawsuit against me demanding more money.  Attorney Nowland immediately filed a cross complaint against the contractor and successfully got all the mechanic's liens removed from the property and actually secured a judgment in my favor.  The fitness club opened on time thanks to Tom Nowland.
I contacted Attorney Thomas F. Nowland when neighboring property owners demanded that I repair and widen a road easement that they were using to cross my rural property. I felt that their demands were unfair because the road was being damaged by their own large trucks and increased traffic to their commercial properties. Mr. Nowland immediately got involved, researched the property records and filed a lawsuit to protect my rights. Mr. Nowland always took my telephone calls and kept me up to date on the matter. He implemented a legal strategy that worked, resolved the road easement issues and even got me compensation for my trouble. I recommend Attorney Thomas F. Nowland highly.
I called Mr. Nowland for a no cost consultation related to a construction contract issue. He was generous with his time, explained all of the legal issues, variables, and possible outcomes to me in language that I could understand. The information allowed me to resolve the matter without further legal action or costs. It was certainly worth the call.
I highly recommend Attorney Nowland.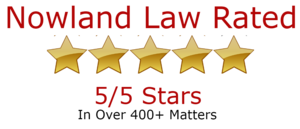 Nowland Law
20241 SW Birch St, #203, Newport Beach, CA 92660
(949) 221-0005


Member, California Bar Association
Member, Los Angeles County Bar Association
Member, LACBA LRIS
Member, Orange County Bar Association
Member, Orange County Bar Association LRIS